Things to Consider While Buying a Garage Door
07/01/2014
Back To Blog
Garage doors are just as important as any other door in the household
It is because they keep us safe, and our vehicles and other things, too. Apart from the security it brings, it adds beauty to your home. There will be a time when you will need to replace your old garage door with a new one. If you were not satisfied with what you had purchased before, you may be satisfied now if you consider these tips while buying the right one for you.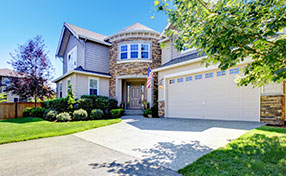 Decide if you want a manual door or an automatic door. Manual doors are the ordinary ones and the automatic doors have remote controls and may also have automatic light functions. Automatic doors can make your life easier but are more expensive compared to the manual one. It is also harder to install but garage door service companies can do that part for you.
Consider the area where you want the new garage installed. Will it be for your single detached house or will it be for a commercial building? Keep in mind that garage doors located in a commercial building are being used numerous times compared to the one at home where you just open and close like once or twice a day.
Know the types of garage doors and choose the one you want. You can check online and you will see different types that garage door companies' offer. You may choose between tilt up or roll up doors. Roll up doors are designed for commercial use because it can be opened easily many times in a day. Tilt-up doors are common in residential areas. It has a single panel that pivots in an up and out direction.
When you your garage door falling apart, it is time to buy a new one. Consider these things and you will never go wrong.